To see a glimmer of hope in the chaos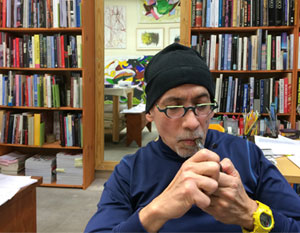 Bautista's works are of rare density, intensity and expression. They are wild and explosive. Out of the chaos, a trace, a path often steps out for the viewer to follow. "I see the chaos that rules almost everywhere, but I see also a hope there," says Bautista. This hope may express itself in an illuminating yellow, spirited, supple stroke or in white lines out of dark yet colorful work. Often very delicate, lively structures develop from the chaos outward. In one of his pieces, enormous rays power the strokes like spirited, colorful dancers that interact on different planes. Another work is filled with vibrant orange like flashes of fire.
Bautista's colors are intense and illuminating. The blues, greens, reds and yellows jump directly out of the picture. "The colors of my homeland Mexico radiate manifold and strong, especially through the light. Even as a child they made a strong impression on me and come now directly out of my heart," explains Bautista.
The renowned Mexican artist – a former art professor and faculty member at several universities in Mexico, including the Ibero-American University in Mexico City and Autonoma Metropolitana University– now works in Boston and New York after having lived and worked in Germany. His works are on display throughout the world, including New Delhi, St. Petersburg, Sicily, and Havana.
Bautista explains: "My life is connected, inseparable from the story of my country." An event that strongly influenced his life was the large earthquake in his home town of Mexico City in 1985. He was heavily involved in the rescue efforts there. From that experience it became clear to him that the construction and the further development of connections between people and peoples have deep existential meaning for him.